Graduate Test Pilot & Flight Test Engineer Course, Fixed Wing or Rotary Wing, Civil or Military focused options. EASA CAT-1 compliant.
Designed for civil and military pilots and engineers who upon graduation will be employed in experimental flight tests. Accredited by the Society of Experimental Test Pilots (SETP) and the Society of Flight Test Engineers (SFTE), the ITPS Graduate Course provides in depth knowledge and instruction in the following subject areas:
Aircraft Performance Flight Tests
Aircraft Flight Control System assessment and testing
Digital Flight Control Systems design and certification
Aircraft Flying Qualities testing
Avionics and Human Machine Interface testing
Aircraft Powerplant and Systems testing
Aircraft Structures and Loads testing
The flying program comprises in excess of 400 lecture hours and 110 flight hours. A minimum of 15 aircraft types will be flown for the civil CAT-1 option.
Start dates: January and June annually
The new facility features a 27,000 sq.ft. hangar, big enough to house ITPS's expanding fleet of aircraft. The administration and classroom building have been extended by 15,000 square feet and feature six additional classrooms, a simulator centre, a state of the art Telemetry Room, additional student facilities and change rooms. The new building features additional briefing rooms, a flight crew ready room and much enlarged canteen area.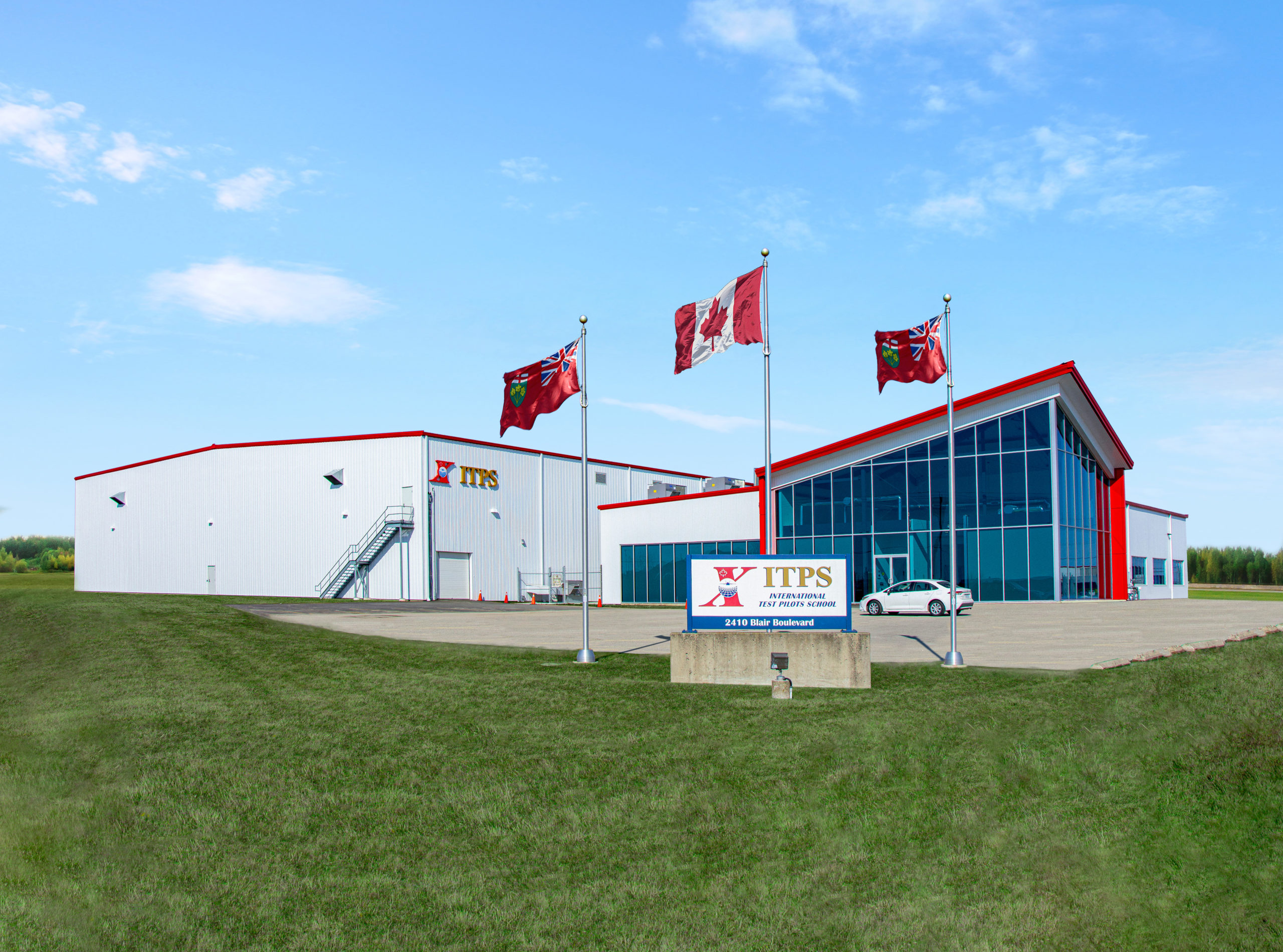 CYXU is a modern regional airport 5 nm north east of the city of London, Ontario. The airport is an international gateway airport with direct flights from Chicago and Detroit and Immigration and Customs facilities. It is as of 2009 the 20th busiest airport in Canada, which makes for efficient school operations with little to no delays due to traffic. The airport is south of Toronto and outside the Toronto (CYYZ) FIR and has close access to large sections of Class E and G airspace minimizing transit times for the execution of flight exercises which can be flown up to FL180 on a VFR flight plan but are Controlled VFR (CVFR) with flight control by Toronto Center above 12000 feet. Two dedicated test areas Delta and Juliet a low altitude one to 12000 and a high altitude one over Lake Huron, up to FL350, north west of London may be used by the school under an agreement with NAV Canada, the Canadian Air Traffic Control Authority. The school therefore enjoys a very favourable air traffic environment for its training operations.
Giorgio Clementi

ITPS PRESIDENT, TEST PILOT, FLIGHT TEST ENGINEER

Giorgio has 34 years of flying experience, 20 of which have been in flight testing. He holds a postgraduate certificate in Aerospace Engineering from Bristol University in the U.K. and an Airline Transport Pilot Licence. He is a graduate of NTPS 1990, Flight Test Engineer Course.

Giorgio's flight testing experience as a pilot and flight test engineer spans fixed-wing and helicopter, civil and military. He has been contracted by a number of major aircraft manufacturers on Part 23, 25, 27 and 29 certification projects. In these positions, he worked with the U.K. Civil Aviation Authority (CAA), the Swiss Federal Office of Civil Aviation (FOCA), Austro Control of Austria, the U.S. Federal Aviation Administration and Transport Canada.

Projects have included performance and stability and control flight tests, cockpit workload (AW-139, 109LUH at Agusta), natural icing flight tests (Embraer-145, Alenia C-27J, IPTN CN-235-200, Diamond DA-42), powerplant and systems certification and avionics systems (Grob G-180Spn).

Contracted by Diamond Aircraft to set up a flight test department in Canada, he conducted the initial proof of concept flight test for the D-Jet prototype as well as the whole Diamond piston-engine line.

Giorgio's military experience includes participating in the flight test of the Mirage IIIBZ upgrade for the South African Air Force. Subsequent experience includes stores certification and weapons testing, navigation systems, targeting pod and laser warning receiver tests.

Giorgio has over 24 years of experience training test pilots and flight test engineers and in designing and managing military training programs for customers from around the world. He has flown over 3,000 hours on more than 60 aircraft types. Giorgio is a member of the Society of Experimental Test Pilots and a member of the Society of Flight Test Engineers.

Dr. Andre Celere

Andre has over 24 years' experience in the Aerospace industry, including over 11 years at Embraer in Brazil. Andre is a graduate of the 1999 Flight Test Engineer course at the International Test Pilot School in the UK. Andre's experience in flight tests following his time at ITPS included being the Flight Test Engineer Co-ordinator at the Embraer Flight Test Centre in Sao Jose dos Campos, where he designed the flight test campaign for the EMBRAER 170 Jet, coordinated asset usage and optimization. Planned all flight test campaign for E170, interfacing with all engineering sectors. Coordinated one aircraft and team of 4, all configuration and maintenance aspects. Participated in the aircraft conception phase as flight test an design and test engineering. Saved 3.5% from total budget and 14% from budgeted flight hours. Certified aircraft on time in Brazil, US and Europe. His next position was that of Flight Test Engineer Supervisor where he managed team of 6 for the EMBRAER 195 Jet Flight Test Campaign. He was part of the crew that performed first flight of E195 prototype. He designed and managed the Flight Test Campaign, for the 195 jet airliner leading to successful certification. His next position was that of Engineering Manager, where he was responsible for the Design Organization structure, hired and implemented team. Managed Multidisciplinary projects going from conceptual design to detailed engineering, manufacturing, assembly, testing, certification. Andre graduated with a BSc in Mechanical Engineering and subsequently a PhD in Aeronautical of Engineering and an MBA from the Universidade de Sao Paulo.

João Falcão

João Otávio Falcão has almost 10 years of flight test experience and aerospace engineering research with the Brazilian Air Force. João is a graduate with honours as best student of the 2010 Brazilian Flight Test Course (CEV – EFEV). He graduated with a BSc in Aeronautical Engineering and subsequently a Master in Flight Mechanics from the Instituto Tecnológico de Aeronáutica, in Brazil. João was responsible for evaluating and certifying the Brazilian new versions of the H225M Caracal helicopter basic vehicle, SAR and the presidential VIP version. During his career as a flight test engineer in the Brazilian Air Force, he flew approximately 550 hours which included experimental test flights covering performance, handling qualities, mission systems and weapons testing. In parallel, he was an Instructor of the Brazilian Flight Test School (EFEV) for 6 years lecturing on Aerodynamics, Performance, Automatic Flight Control System, Rotor Characteristics and Flying Qualities for the Brazilian Acceptance and Flight Test Course. He was also Chief of  the Flight Test Section of Brazilian Aerospace Product Certification Division, coordinating the H225M Brazilian Air Force Operational Version certification process and working on the following Brazilian military certification processes: H225M Brazilian Navy Operational version, AS-365K2, KC-390 (Embraer), Gripen NG (Saab), F-5 modernization, A-1 modernization and C-295 SAR version. João has presented flight test technical papers at European Rotorcraft Forum (ERF), American Helicopter Society (AHS) International Annual Forum and and has been published in international journals. He has flown more than 25 fixed and rotary wings aircraft types.