October 7, 2020
Hard to imagine it's been 7 months since we found ourselves at the start of the COVID lock down and in uncharted waters.  Our sincerest appreciation to all students, customers and staff for their patience and understanding during the uncertainty.  We all relied on each other to keep the school running and by adapting to the ever-changing requirements of the work and business environment.
As we head towards the end of 2020, we hope that we are all able to return to as close as normal as possible. We will continue to be innovative and responsive to clients' needs and look forward to the next 2 months before our part-online annual seminar event. Hope you will join us. Fly safe!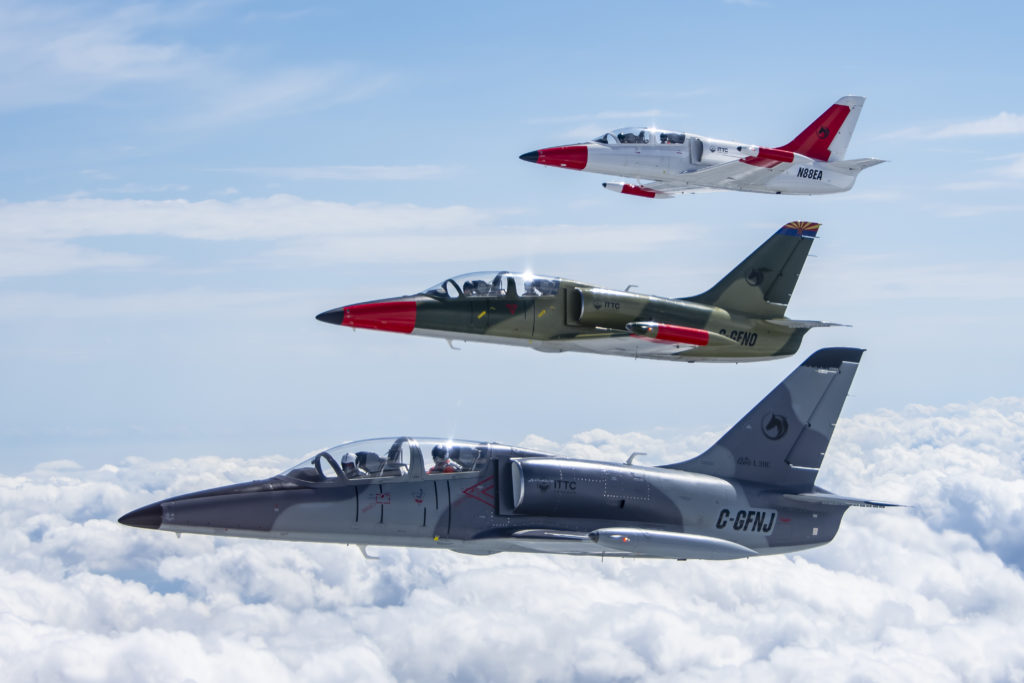 ITPS AWARDED TRAINING CONTRACT FOR RCAF – SEPT 11th.
We're pleased to announce ITPS has been awarded a contract to train Royal Canadian Air Force (RCAF) test pilots and flight test engineers. Following an international competition, ITPS was ranked first in a bid for a Standing Offer to train personnel from the Aerospace Engineering Test Establishment (AETE). Selected RCAF pilots and engineers will undergo periodic training at ITPS, for three years, with an option to extend the training agreement for two additional one-year periods.
NEW DISTANCE LEARNING OPTION
Due to COVID travel restrictions and mandatory 2-week quarantine for arriving students, ITPS fast-tracked our online delivery of academic modules. This ensures the quarantine period is not wasted and students arrive at the school ready for their practical work. Several clients have received online classes while they wait for the all-clear. Currently, ITPS is offering several short course academic modules online to students unable to travel.
A NEW 787 SIMULATOR FOR ITPS
Our latest simulation asset is a full-cockpit Boeing 787 Dreamliner fixed base training device from Flight Deck Solutions. It will be used to provide fixed wing flight test course students the opportunity to learn test techniques on a highly accurate example of a modern heavy transport aircraft. The simulator's flight deck and instructor operator system provide a platform for instruction on aircraft performance, avionics functional assessment, systems integration, man machine interface and cockpit form and function testing as it applies to heavy transport aircraft.  Construction of the simulator's flight deck includes a combination of replica cockpit controls and displays with actual aircraft components to achieve an overall flight deck that precisely represents the 787. A 200° wrap-around screen provides the simulator's pilots and crew with an immersive display of the flight environment.
Overall, the level of accuracy presented by the new simulator is spoken to by the fact that Flight Deck Solutions have supplied their Dreamliner simulators directly to Boeing, the aircraft's manufacturer. "Our B787 simulator represents a significant investment in the future of the company. As we continue to expand on the high level of ITPS's capability, as we've done with the B787 simulator, so grows our strength as a leader in world class flight test training" said Giorgio Clementi.
ACE VARIABLE STABILITY SYSTEM PROJECT
On May 25th, NRC-IRAP informed ITPS that our grant application for this project was approved, subsidising CAD 500,000 of salary expenses for this project for in 2020. This provides validation of our project, which was carefully evaluated by NRC prior to grant award. Well done Carlo Clementi CFO, Dr Andre Celere, Chief Engineer and Matthew Ramsey, Projects Coordinator for the outstanding efforts in securing this funding!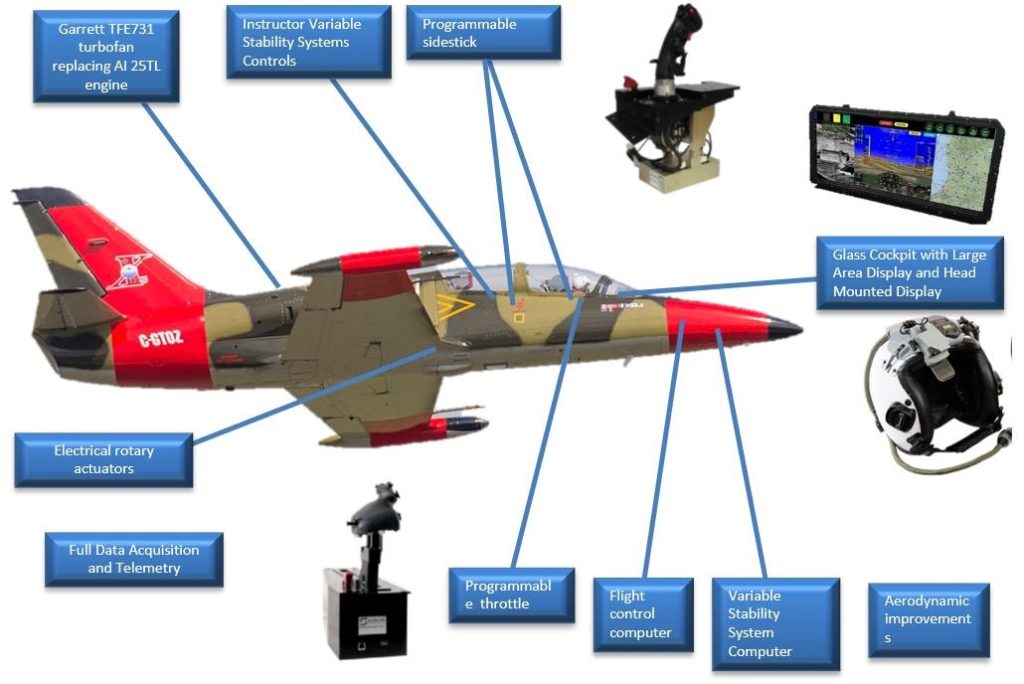 ITPS FLIGHT TEST ANALYSIS TOOL 
The in-house built Flight Test Analysis Tool, mirrors modern OEM corporate flight test data access and analysis front-ends, providing ITPS students with a window into the process of accessing their flight test data from a centralized server, graphically selecting the appropriate time slices for each test point, including the ability to apply band-pass filters and generate report quality strip-charts. Data can be exported for further treatment as well, where the students will apply the data reduction techniques taught at the school.
MERIO FLIR CHECKOUT
UAS Instructor David Cooke has been setting up our new Merio FLIR for the ground training installation. This set-up will allow students to familiarise themselves and evaluate the system and controls on the ground. The same system will be installed on the Long-EZ MRPA (Manned Remotely Piloted Aircraft) for airborne evaluations of the system.

GROUND CONTROL STATION (GCS) UPDATE
The GCS can now run X-Plane 11 and run a Long-EZ or X-47B Drone (CUAV) with Pilot and Sensor Operator. With situational awareness charts and TacView on the Upper screens, it can also Simulate NVG and Night Ops. Firefly6 and Mavic 2 ED can also be flown from INSIDE GCS and displayed on GCS monitors to allow flights in colder weather as long as no snow or ice is present. We can connect to the Optimum Dish tracker and track the MRPV (still tuning) and waiting for audio connectors. GCS can now connect to and run servos in the MRPA on the ground through the Silvus and control MRPA flight servos. Ground test with Mission Planner control from the REAR seat is next.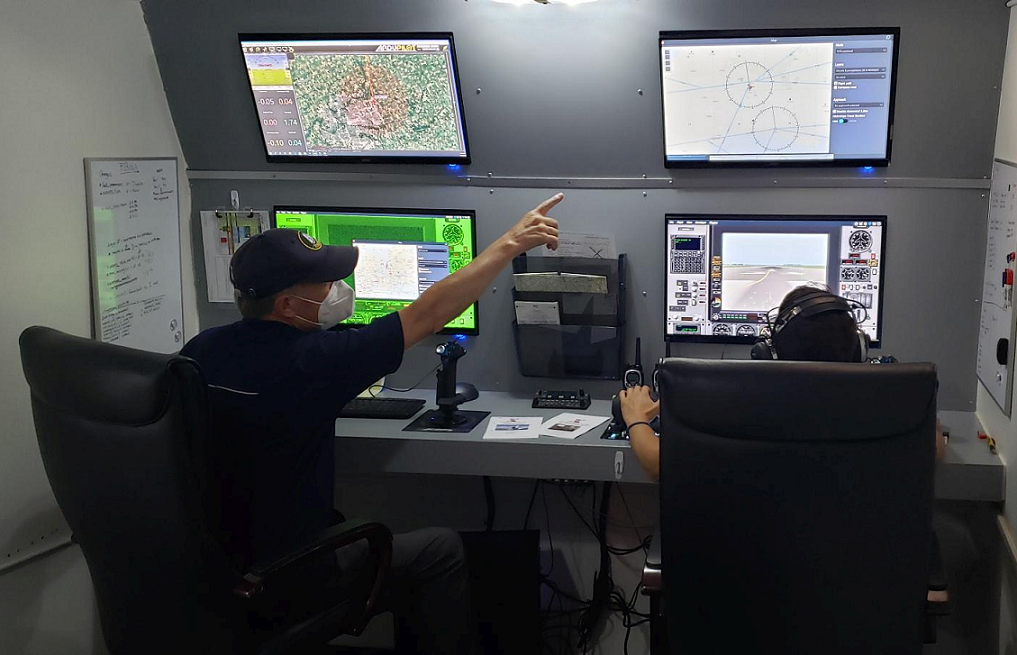 BIRTH OF THE BLUEJAY
ITPS has been developing a Manned Remotely Piloted Aircraft (MRPA) capable of being flown as a drone within the National Airspace. Current Canadian Air Regulations for UAVs prohibits flight above 400ft or Beyond Visual Line of Sight (BVLOS). This meant the school, which trains Test Pilots and Flight Test Engineers (FTEs) was unable to learn the skills needed to test UAVs in the actual environment that future remotely piloted aircraft will operate. Instead, ITPS is developing a "drone" aircraft with a pilot on board as a safety feature, so they can fly anywhere, while being controlled and tested using telemetry from the ground. This is a collage of scenes from the first ground and flight test of a Rutan 61 (Long-EZ) that will be known as the "BLUEJAY".
Being a "Fly-By-Wire" flight control system, it also offers the school it's first "Variable Stability Aircraft" teaching capability at a very low cost of entry. Other fly-by-wire aircraft typically cost an order of magnitude (10x) more without much more complexity. The BLUEJAY is also planned to be used for International Tactical Training Course (ITTC) teaching fighter pilots and UAV pilots how to plan and collaborate on operational surveillance, reconnaissance and targeting missions both in and out of controlled airspace. BLUEJAY brings a wealth of Flight Test and Operational Training scenarios within reach today.
Check out the video here:
https://vimeo.com/user53628284/download/451702439/f468b87153
THALES HELMET MOUNTED DISPLAY EVALUATION IN BO-105M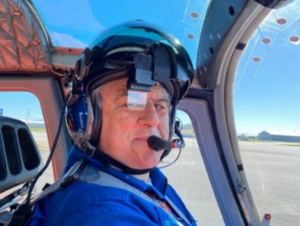 With thanks to Cedric Danancher and Henry Language! We were able to gain valuable insight into the capabilities of the system and its educational value at the school. The LuCy system that we use is an autonomous Head Mounted System (HMS) designed by Thales which provides information to the pilot via the projection of symbology on a monocle, without requiring integration with the helicopter avionics. This recent addition to our test equipment offers multiple possibilities to confront our trainees with the problems inherent in the design of symbology, particularly as an aid to navigation. In addition, the modular capabilities of the system and the bilateral link we have installed between LuCy and the helicopter's on-board test facility allow us to display the parameters of our choice on the monocle (engine parameters, control positions, etc.). Thus, the system will be able, in the near future, to be used by our pilots (students and instructors) to help them carry out their test points. This is an essential asset that further enhances our pedagogical arsenal.
CONGRATULATIONS GRADUATES!
The school celebrated four graduations under COVID-19 protocols. Students and the necessary instructors and staff on-site practiced social distancing, wore protective face masks and omitted handshakes in order to keep everyone safe while friends, family members and guests attended remotely: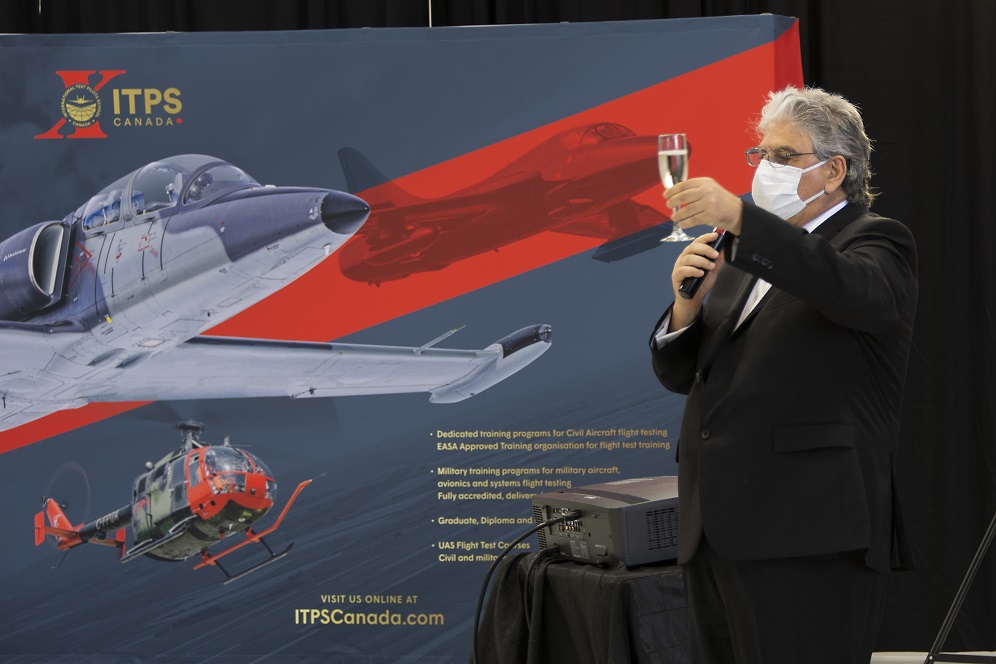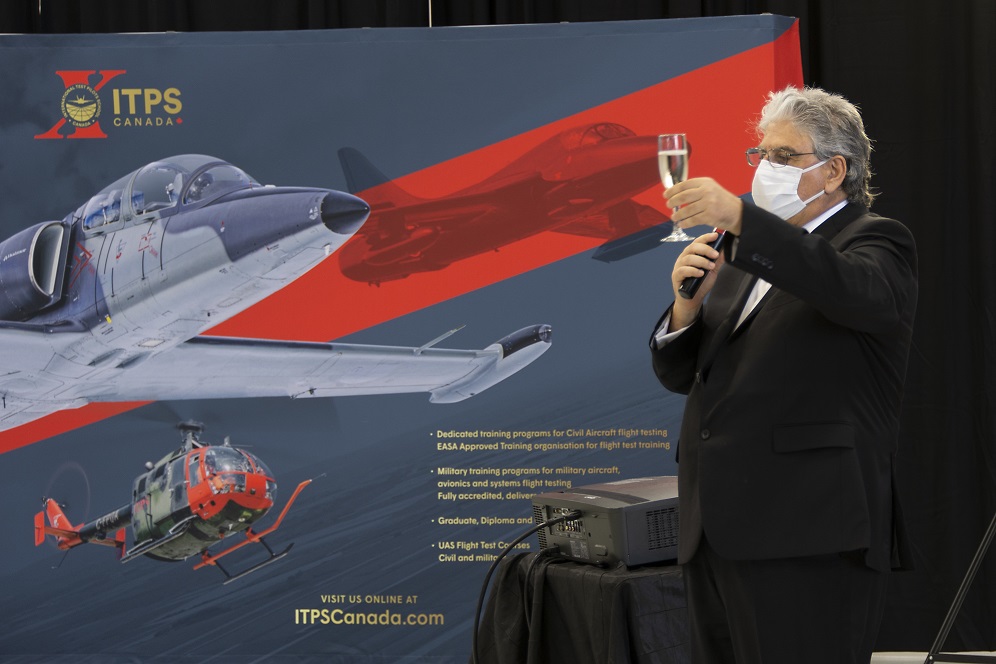 FLIGHT TEST INSTRUMENTATION COURSE – JUNE 12TH
ITPS Canada celebrated Massimiliano De Bellis and Emiliano Cerino from the Italian Air Force, who completed the Flight Test Instrumentation course. The students also presented ITPS with a commemorative plaque of their time spent at the school.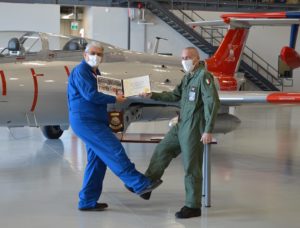 GRADUATE 2019B – JUNE 19TH
We celebrated the graduation of the 2019B Graduate Test Pilot and Flight Test Engineer Course. The ceremony was attended virtually by guests from all over the world, with keynote speaker Fernando Alonso former Head of Flight and Integration Tests at Airbus joining us from Spain. He shared an inspiring welcome to the flight test community for our graduating class.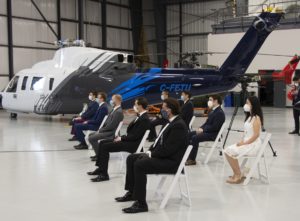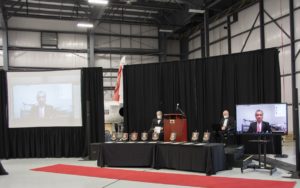 LEONARDO SYSTEMS – JULY 18th
We said Arrivederci! to our good friends Enrico LoGreco and Pierfilippo Rizzo from Leonardo Systems. It has been an absolute pleasure having them here for the past almost seven months. Their enthusiasm and sheer enjoyment of everything flight test and ITPS-related has been a joy!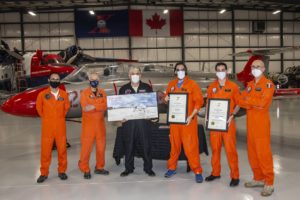 FLIT COURSE 1 – JULY 24TH
The International Tactical Training (a division of ITPS) celebrated its first graduating class from the Fighter Lead-In course. Dignitaries from the RMAF joined the event via Webex for another successful partly-online graduation event.
WELCOME TO ITPS!
The ITPS family continues to grow as we bring in talented and experienced individuals from around the world. Since May we have been joined by:
ITPS MARKETING EFFORTS
ITPS has continued marketing efforts through editorials and advertising in various digital and print publications. We have been featured in SKIES Magazine, Aerospace Testing International, Military Simulation & Training Magazine, Combat Aircraft Journal, Aviation Week and Vanguard Magazine. For direct links to the article visit our News or the International Test Pilots School page on LinkedIn.
 Looking forward to our Annual Flight Test Seminar in December!