Mathieu Belanger – Assistant Flight Test Instructor and Student
August 19, 2022
Mathieu Belanger enroled in Graduate Flight Test Programme and MSc. in Flight Test Engineering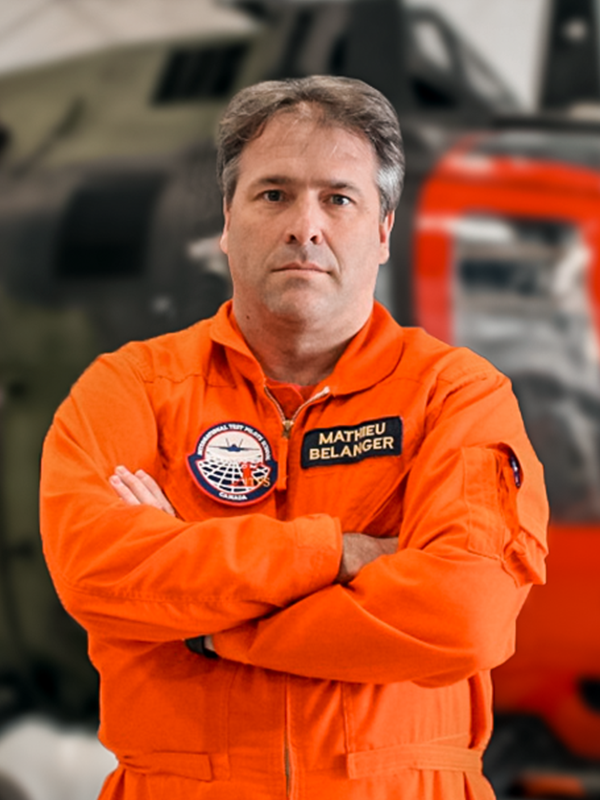 The International Test Pilots School is committed to nurturing Canadian talent in the field of flight testing and for some years has implemented the Assistant Flight Test Instructor programme which provides exceptionally qualified and experienced Canadians the opportunity to attend the Graduate Flight Test Course (FW or RW, Test Pilot or Flight Test Engineer). Upon graduation, they gain experience for three years flight testing school project aircraft whilst gradually being introduced into instructional duties. Mathieu Belanger is one such candidate and an Assistant Flight Test Instructor at ITPS. He gained more than 8,600 flying hours on rotary and fixed wing aircraft and over 20 years in the aviation industry and is currently enrolled in the MSc. in Flight Test Engineering and CAT-1 RW test pilot course.
Matt graduated from École Polytechnique (Montréal) in Electrical Engineering – Avionics in 1999. He worked for Bell Helicopters and Bombardier Aerospace–Defense Services (now L-3 MAS) on various civilian and military projects, as an intern and later as Professional Engineer. In 2000 he obtained a Commercial Pilot License – Helicopters and joined Canadian Helicopters. He spent the next 10 years as a "bush" pilot, working mainly in Northern Canada, from coast to coast. In 2007 he obtained a Commercial Pilot License – Airplanes, an Instrument Rating on both Airplanes and Helicopters, and an Airline Transport Pilot License – Helicopters. With these new qualifications in hand, he joined the "North Warning System" crew, servicing NORAD's line of radars on the Canadian Arctic Coast as a VFR/IFR pilot. In 2010 he joined Cougar Helicopters as an offshore pilot. For the next 11 years, he served the Canadian North Atlantic's oil & gas industry by delivering people and goods to offshore platforms sometimes located as far as 240 nautical miles from the closest shore. While at Cougar Helicopters, he acquired additional experience as Base Operations Manager and as Line Training Captain.
In 2022, Matt joined ITPS and was finally able to put both his pilot license and his engineering degree to good use. Matt has travelled to Spain for the acceptance of the AW139 simulator in the Advanced Aircraft Simulation Centre (AASC) at ITPS.
When asked about his future, Matt said he is excited about learning more about flight testing and appreciates the opportunity to work with the incredible instructors at ITPS.