Guy Lynch, Flight Test Engineer Instructor
October 3, 2022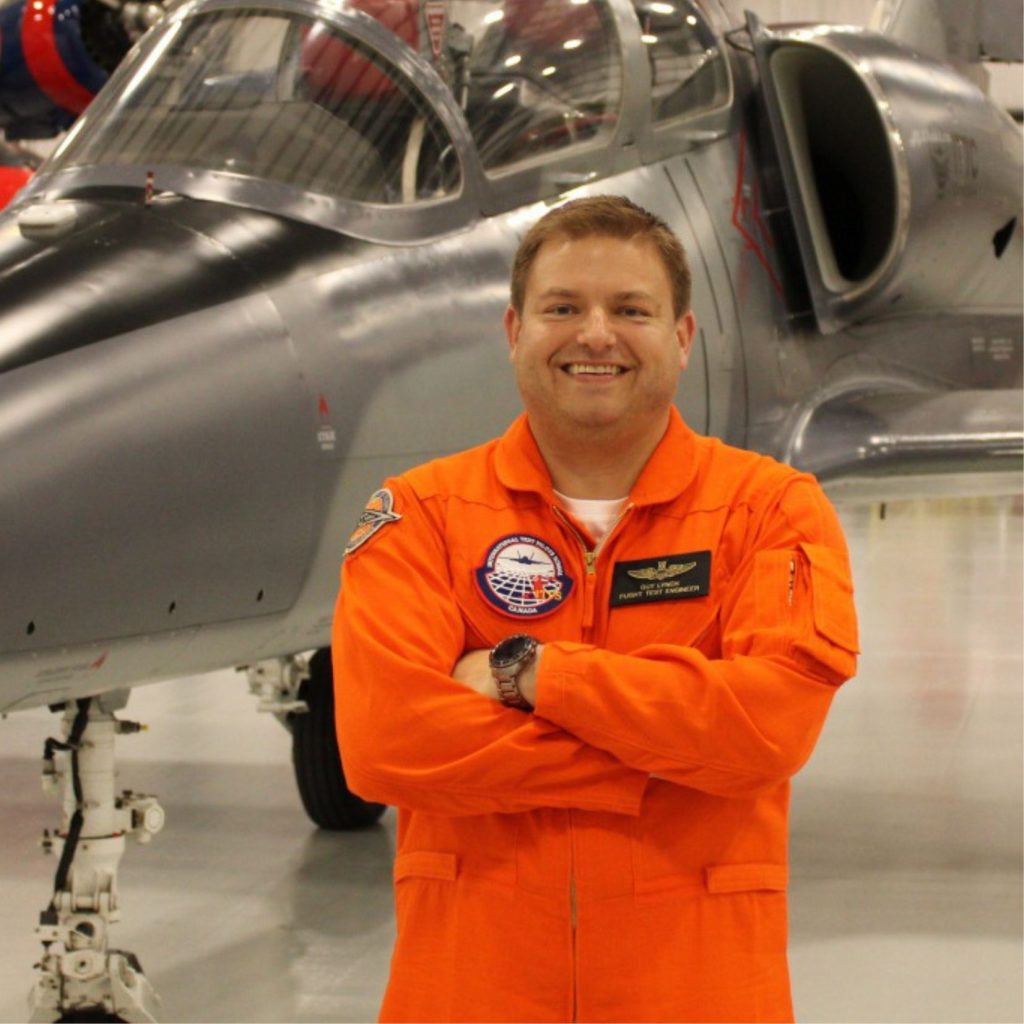 Guy Lynch joined ITPS as a Flight Test Engineer Instructor. He brings over 20 years of aviation experience, including over 850 hours of flight test of fixed- and rotary wing aircraft, including civilian turbo-props, military trainers, helicopters, a business jet (clean-sheet design) and an amphibious flying boat.
He has an Aerospace Engineering Degree from the University of Hertfordshire (UK), which included a placement as an Avionics Integration and Test Industrial Trainee with Lockheed Martin and working on software upgrades for the Royal Navy Merlin MkI. Guy has an Honours BEng from the University of Hertfordshire (UK) and is a short course graduate of NTPS, ETPS and the University of Kansas.
Post-graduation employment continued on the Merlin (EH101) helicopter Avionic Systems development and test for AgustaWestland (Yeovil UK).  After three years in this position, Guy moved to QinetiQ Boscombe Down, initially developing and training Aircraft Release to Service processes and tools before becoming a Rotary Wing Avionic Mission Systems Trials Officer. His work included assessments of modifications to various helicopter types, including the Lynx, Sea King and a return to the Merlin for flare firing trials. In this position, Guy learned and practiced the fundamentals of practical flight testing, including risk assessments, trial planning and reporting.
In 2009, Guy moved to Switzerland to pursue an opportunity with Pilatus Aircraft, switching to Fixed Wing aircraft. Initially an Avionic Systems Engineer for the PC-21 Military Trainer, then soon moved to the Flight Test Department to concentrate primarily on PC-12 and PC-21 upgrades. During Guy's ten-year stint with Pilatus, he conducted development, certification and production testing on all types manufactured at that time; PC-6, PC-7 MkII, PC-9(M), PC-12, PC-21, as well as the recent PC-24 business jet. By the time the PC-24 project (clean sheet design, twin jet) became a reality, Guy was a vital member of the Flight Test Team and participated in the Telemetry Room throughout initial taxi tests and first flights, following the programme through to initial Type Certification and multiple post TC programmes. Pilatus allowed him to support many aspects of testing and away trials including; PC-12 & PC-24 Avionics and Autopilot joint trials with Honeywell in Olathe and Phoenix USA, PC-21 Mission Systems investigations and development in the UAE, and PC-24 Climatic Chamber (McKinley), Cold Weather (Canada), Natural Icing (Great Lakes USA) and Gravel Runways (Canada) to name but a few. Highlights included leading both the PC-12 & PC-24 High Latitude Trials across the Canadian Artic and the Anti-Icing Fluid Trials conducted inside the arctic circle (Kiruna, Sweden).
Guy says, "in joining ITPS, I would like to increase my capabilities and knowledge and pass on valuable industry experience.  I enjoy interacting with students and learning more about the training side of the flight test arena." We are glad you are part of our team, Guy!