September 8, 2022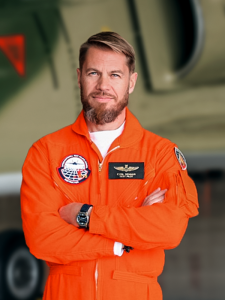 Cyril Gennari is a Fixed Wing Test Pilot Instructor and has over 8,000 flight hours including 1,400 in flight testing. He originally joined the French Navy in April 1998 as a student pilot officer and spent five years flying a variety of aircraft. Roles included transport, support missions, Maritime patrol and coast guard surveillance and was promoted to Captain. Aircraft included EMB 121 Xingu and Nord N262.
From 2003 to 2010 he joined 21F squadron flying on Breguet Atlantique 2 (ATL2) across Europe, Africa, the Middle East progressing from Operational Pilot to Captain "all missions" and as Instructor on ATL2. Cyril was also qualified as Airborne Forward Air Controller (ABFAC) thus providing flexibility in aircraft/crew deployment on all types of missions such as anti-submarine warfare, anti-surface warfare, ISR and air-to-ground missions.
Post operational tours, he was selected to join EPNER (Istres AFB) and graduated as a Test Pilot, Cat 2 in July 2011 and assigned to Istres AFB at the French Navy Flight Test and Experimentations Center as Test Pilot and ATL2 Chief of Department. The main programme being the upgrading of ATL2 on avionics and tactical equipment. Improvements to the aircraft included high performance equipment such as new electro-optical turret, new EFIS screens and tactical equipment, done in collaboration with the Dassault test team and DGA. Cyril was also in charge of the new capability Falcon 50 programme, retrofitting a hatch in support of the operational squadron.
Cyril was test pilot on the upgrading of the ATL2 aircraft for bombing (GBU) and laser guidance for supporting operations in Africa. He was also in charge of acceptance flights for aircraft for the French Navy and flight testing, in coordination with DGA. Other programs he was responsible for included spin demo on Cap10-C and the delivery program for Cirrus aircraft as purchased by the French Navy.
Cyril joined operational squadron 24F in Brittany (Lorient NAS), flying the Dassault Falcon 50 for surveillance, search & rescue (SAR) missions, and, as Test Pilot, for acceptance flight and aircraft improvement (hatch for container drop program, navigation and tactical equipment programme). In 2016, he joined 25F squadron, based in Tahiti – French Polynesia – as Executive Officer, flying Dassault Falcon 200 "Gardian". Appointed as Commanding officer of the squadron in Tahiti and his detachment (based in New-Caledonia) for two years, he had the opportunity to execute a wide spectrum of missions in all the Pacific area as operational, training and flight testing (acceptance flight, improvement capabilities flight).
Cyril officially retired in March 2020 as LCDR and joined a professional flight school as an instructor and co-manager before joining ITPS. He holds EASA flight licenses as Test Pilot, Flight Test Instructor and Airline pilot. A Bachelor's Degree in Science as well as the aeronautical medal ("Medaille de l`aeronautique'). The Aeronautical Medal is a state decoration of France established by the decree of February 14, 1945, and is awarded to both military personnel and civilians for outstanding accomplishments related to the field of aeronautics.
Cyril is impressed by the ability of the ITPS instructors "to teach flight test techniques and also as well as flight test amazing ITPS projects including the Advanced Handling Qualities Aircraft (AHQA – VSS) and the 5th Generation Surrogate Training Aircraft (5STA)." We are pleased to have you on the ITPS team Cyril!