March 14, 2022
Welcome to the ITPS Team, Mark!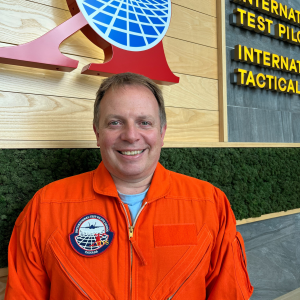 We continue to grow our outstanding team of test pilot instructors at the International Test Pilots School. Mark Chivers has joined ITPS following a 31-year career as a pilot in the British Army. He initially flew the Gazelle helicopter in the Observation and Reconnaissance roles before converting onto the Lynx in the Anti-tank role. Mark graduated from the Empire Test Pilots' School (ETPS) in 2003 and quickly became instrumental in delivering the Apache AH-64D into service with the British Army, completing flight testing in natural icing conditions, ship/ helicopter operating limits as well as high-density altitude flying qualities testing in support of operations in Afghanistan.
Following his tour as the Project Test Pilot for the Apache, he took command of the British Army's Operational Evaluation Squadron delivering rapid prototype testing for all Army aircraft. He returned to ETPS as the Army's Test Pilot Instructor and Principal Tutor from 2009-12. This was followed by a 5 year exchange tour with the U.S. Army in Alabama, USA. As a Test Pilot and part of a Combined Test Team with Boeing, he carried out Performance, Flying Qualities and Systems testing of the new Apache AH-64E aircraft. As a Test Director and Pilot, he was responsible for the Modernized-Target Acquisition Designation Sight upgrades for the newly fielded Apache AH-64E Version 6 aircraft as well as Fire Control Radar testing.
On return to the UK he became the Program Manager for the UK's purchase of the Apache AH-64E V6 and setup/ lead the Team currently responsible for delivering the aircraft into service with the British Army. Mark holds both EASA and FAA flight licenses as well as a Bachelor's Degree in mechanical engineering (Cranfield University, UK).
He has amassed over 3500 flight hours on more than 40 different aircraft types. Welcome to the ITPS team, Mark!